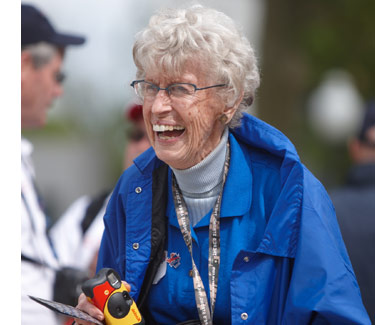 Attention Honor Guards.
If you would like to participate in the Honor Wall at the Central Wisconsin Airport and welcome home our Honor Flight veterans, please call John Pellegrino at 715.551.1039 to reserve your place and for details.
All Military/Civic organizations who plan on being at CWA, please be there by 8:30 p.m.:

Flight Schedule:
Monday April 18, 2016
Monday May 16, 2016
Monday September 12, 2016
Monday October 10, 2016
Monday April 24, 2017 (Itinerary & Roster TBA)
Monday May 22, 2017 (Itinerary & Roster TBA)
Harriet Swanson-Winchester, WI
Mission #1

Our 2016-2017 Pre-flight Banquets will be held at the Highland Community Church (1005 N 28th Ave, Wausau, WI 54401) and our Honored Veterans, guardians & their guests (from outside the Wausau area) will stay at the Fairfield Inn (7100 Stone Ridge Dr, Weston, WI 54476) on Sunday and Monday nights, for NO CHARGE, compliments of the Ghidorzi Hospitality Group.
For Driving directions--click below:
Written Directions to Highland Community Church and Fairfield Inn
Map to Highland Community Church
MAIL CALL LETTERS If you would like to write a letter to a veteran for "Mail Call", send your letter to:
Veteran's Name (or "Honored Veteran")
C/O Never Forgotten Honor Flight
903 S. 17th Ave
Suite C
Wausau, WI 54401
Never Forgotten Honor Flight, to the music of the Mosinee Cantabile Choir's signature song,
"Welcome Home"!!