Never Forgotten Honor Flight is a Wausau - based organization formed in November of 2009. Our goal is simple: to fly veterans (in our region) who served during World War II, the Korean War or the Vietnam War to Washington, D.C. to visit the memorials erected in their honor. We are an affiliate of the national group Honor Flight Network, which began this activity in 2005, and began flying with commercial charter aircraft in 2006 from Dayton, Ohio.
THE ONLY QUALIFICATION FOR A VETERAN TO TAKE AN HONOR FLIGHT TRIP IS TO HAVE SERVED IN THE UNITED STATES MILITARY, IN ANY CAPACITY ,DURING THE FOLLOWING TIME PERIODS:
Merchant Marines - 12/7/1941 to 8/15/1945
WWII – 12/7/1941 to 12/31/1946
Korea – 6/25/1950 to 1/31/1955
Vietnam – 2/28/1961 to 5/7/1975
There are now about 137 "hubs", or cities from which flights originate, in 43 States.
• Veterans Flown since inception: 117,556
• Guardians Flown since inception: 70,150
(as of Dec 2013)
Veterans must fill out an application form, which can be found and printed or downloaded here. All veterans on a flight are accompanied by trained volunteer Guardians, who assist veterans for the day. Volunteers can apply to be a Guardian by downloading or printing the form available here.
We are supported by various private and commercial donors. We are supported by many veterans organizations in the region. We have no paid staff. Our volunteers organize the veterans for travel, arrange the travel both to and from Washington, and arrange all transportation, activities and meals in Washington. The trip is typically all in one day, spending several hours at the World War Two Memorial, and visiting other Washington landmarks such as the Korean War Memorial, Vietnam Wall, Lincoln Memorial or the Marine Corps War Memorial.
Priority is given to those veterans who served in World War II, then Korea and then Vietnam. If a veteran is certified terminally ill by a doctor but able to travel, he or she moves up the priority list no matter what their era of service. Anyone interested in donating can do so here.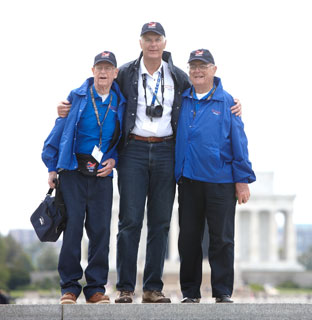 WWII Vets Felix Bonvouloir & Harvey Bricko with guardian Jeff Zriny on Mission #1, April, 27, 2010
Wisconsin Broadcasters Association's

Honor Flight Pulbic Service Announcemen
t
WWII Veteran, Brad Hoffman in front of the Wall of Stars at the WWII Memorial, Mission #8, May 7, 2012